 Quality & Compliance
For over two decades, our customers have come to depend on us for uncompromising quality. Every item supplied by Airborne Technologies is inspected to make sure that all quality requirements are maintained. All inspection equipment is continually calibrated for testing accuracy. Our team of professionals has years of hands-on experience with close-tolerance precision manufacturing in aerospace project environments. Inspection records are kept on file for every item that is purchased or manufactured by Airborne Technologies. Step-by-step monitoring of all manufacturing criteria is verified and recorded to assure full traceability with conformance to MIL-I-45208A and international standards. Whether you require a certificate of conformance or U.S. Government Source Inspection, Airborne Technologies will make sure the items you order from us will be supplied with exceptional quality and dependability, without compromise.
Structural Airframe Components
& Assemblies
A Lockheed Martin-Licensed Manufacturer
Airborne Technologies is a multi-faceted supplier of precision aerospace structural components and assemblies for the military, commercial, and general aviation markets. Our vast array of customers includes various overhaul facilities, the United States Government, as well as foreign governments and most major prime aircraft manufacturers worldwide. Airborne attributes its success to an exceptional staff that is dedicated to maintaining the Airborne reputation of quality and dependability to its customers. Airborne's capabilities include complete tool design, precision manufacturing, engineering, sheet metal fabrication, and assembly. In addition, Airborne Technologies is a stocking distributor for various aviation products, carries one of the most complete structural component inventories, and is a structural licensed manufacturer and premier source for the Lockheed C-130 Hercules transport aircraft.
Airborne Technologies was founded in 1972 and is in Camarillo, California. Our over-50,000-square-foot facility provides manufacturing, overhaul, design, engineering, and warehousing capabilities. We have over 14,000 line items available for the C-130 Hercules transport aircraft. Our certifications include Lockheed Martin-Certified Parts Program licensee, Boeing ANSI/ASQC Q9002, and AS9100D and ISO 9001:2015 registrations compliance.
Contact Us
Specializing in the manufacture of structural airframe components and assemblies, Airborne Technologies is a fully qualified manufacturer for the United States Government and foreign governments worldwide. To broaden our range of supply capabilities, Airborne Technologies has developed impressive manufacturing expertise in loft-contoured and formed parts. Our planning and production professionals have the in-depth experience to ensure that all Airborne Technologies-manufactured components will be produced to the correct configuration. A comprehensive library of engineering drawings, design and manufacturing standards, process specifications, and spares-configuration documentation is updated continually to make sure that all items are manufactured to the latest available revisions.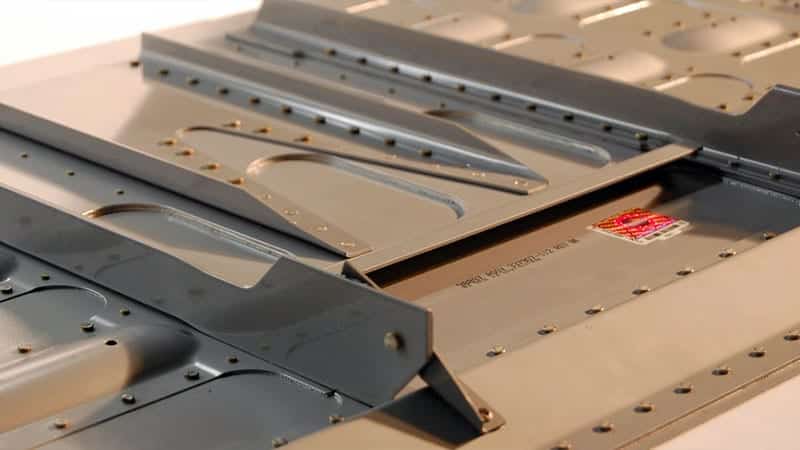 Airborne Technologies featured on Manufacturing Marvels®️
Airborne Technologies was featured on the February 6, 2020 episode of Manufacturing Marvels®️, which aired on Lou Dobbs Tonight on Fox Business Network®️. Manufacturing Marvels®️ is a series of educational and promotional videos highlighting U.S. manufacturers and how their products and services contribute to many industry sectors. The series of two-minute videos are produced for Fox Business Network®️ and features the talents of award-winning director Bryan McCullough, and nationally acclaimed voice talent John Criswell.
The video highlights Airborne Technologies' capabilities for complete tool design, precision manufacturing, engineering, sheet metal fabrication, and integrated assembly. Airborne Technologies has the in-house expertise and capabilities to not only manufacture precision parts, but to assemble integrated airframe structural assemblies.
Airborne Technologies offers a diverse and dynamic work environment where all employees are committed to the community we serve and to exploring endless professional opportunities. Our success is based on delivering high quality products and providing unsurpassed customer service. We achieve this by working hard, thinking about our customers' needs, and treating our internal and external customers with the highest level of integrity. We believe this can only be accomplished by working as a team.
SEE JOB OPENINGS
Airborne Technologies
999 Avenida Acaso
Camarillo, CA 93012
Tel: +1.805.389.3700
Fax: +1.805.389.3708
Contact Us
Need a quote on a part from one of our OEM partners? We'd be happy to help.