Aero Precision is pleased to announce they have entered into an exclusive international agreement with SelectTech GeoSpatial , a manufacturer of RO/RO military airborne VIP suites, which include Senior Leader In-Transit Pallet (SLIP), Senior Leader In-Transit Conference Capsule (SLICC), Roll-On/Roll-Off Conference Capsule (ROCC) and Steel Eagle, along with other products such as associated communication systems for airborne connectivity.
These suite enclosures are fully customizable to meet the needs of the customer. Current approved models include conference room space, berthing areas, and connectivity for comfort and productivity during transport. These units can be operational in as little as nine months on previously qualified models, giving VIPs the best-in-class transport options in under a year. The RO/RO capabilities make it seamless to turn the aircraft into a VIP capsule and back to a cargo plane with no modifications to the aircraft. Current models include the SLIP, SLICC, and ROCC as mentioned below.
SLIP — Open seat-pallet enabling dignitaries to travel and work in executive-level comfort with power, overhead lighting, and a large working table. Certified on the C17, KC135, and KC10. Can be customized for the C130 and other transport aircraft.
SLICC — A compartmentalized traveling suite designed for dignitaries to work and rest comfortably with a birthing and conference area with power. Certified on the C17, C130 and KC10.
ROCC — A compartmentalized traveling suite with a 9-person executive-level conference room, private berthing and seating area with power, lavatories and closet. The ROCC will be certified on the C17 and can be customized to fit the C130 and other transport aircraft.
"Upon meeting at the C130 TCG, it became apparent this product line was something we wanted to stand behind and offer to the international markets. The top US Government officials utilize the SelectTech enclosures and pallets to ensure productivity and comfort while traveling around the globe. These products have been proven as an extreme beneficial way to transport top level personnel without the visibility and significant cost of procuring a VIP aircraft." Said Adriana Wheeler, Director of Business Development, at Aero Precision.
"SelectTech is elated to partner with Aero Precision to increase our sales reach literally around the globe. We're very impressed with Aero Precision's team and capabilities and very much look forward to working with them in the future." said Scott Sullivan, President & CEO of SelectTech.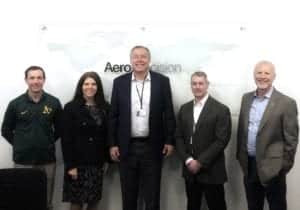 About Aero Precision
Aero Precision is a leader in aerospace distribution and services and a premier worldwide stocking distributor of aircraft OEM parts. With over 20 years of reliability, quality products and customer service, Aero Precision facilitates the purchasing and R&OH process by sourcing all military aircraft parts requirements under its unique logistic support model. Aero Precision has stocking distribution agreements with Honeywell, Collins Aerospace (UTAS- Hamilton Sundstrand), CEF Industries, Parker, Pall, Eaton, Texstars, Champion Aerospace, Crane Aerospace, Marvin Test Solutions, Essex Industries, InterConnect Wiring, WesTest Engineering and other strategic OEM partners for various product lines and supports 60+ countries worldwide.
About SelectTech
With Corporate headquarters in Centerville OH, and its advanced manufacturing and integration facility located on the Springfield-Beckley Municipal Airport flight-line in Springfield, OH, SelectTech possesses some of the most extensive engineering and technical talent in the industry, providing best-of-breed facility management, information technology, engineering and technical support services and specializes in both airborne and ground modules, satellite communications, rugged electronic enclosures, as well as aircraft and systems integration. More information available at www.sgamf.com.
In 2020, AllClear Aerospace & Defense brought together two of the industry's leading companies, Aero Precision and Kellstrom Defense. With over 55 years of defense aircraft experience, AllClear is the industry's leading provider of mission-ready aviation MRO and sustainment solutions to the military aftermarket, providing excellence to the U.S. military and its allies.